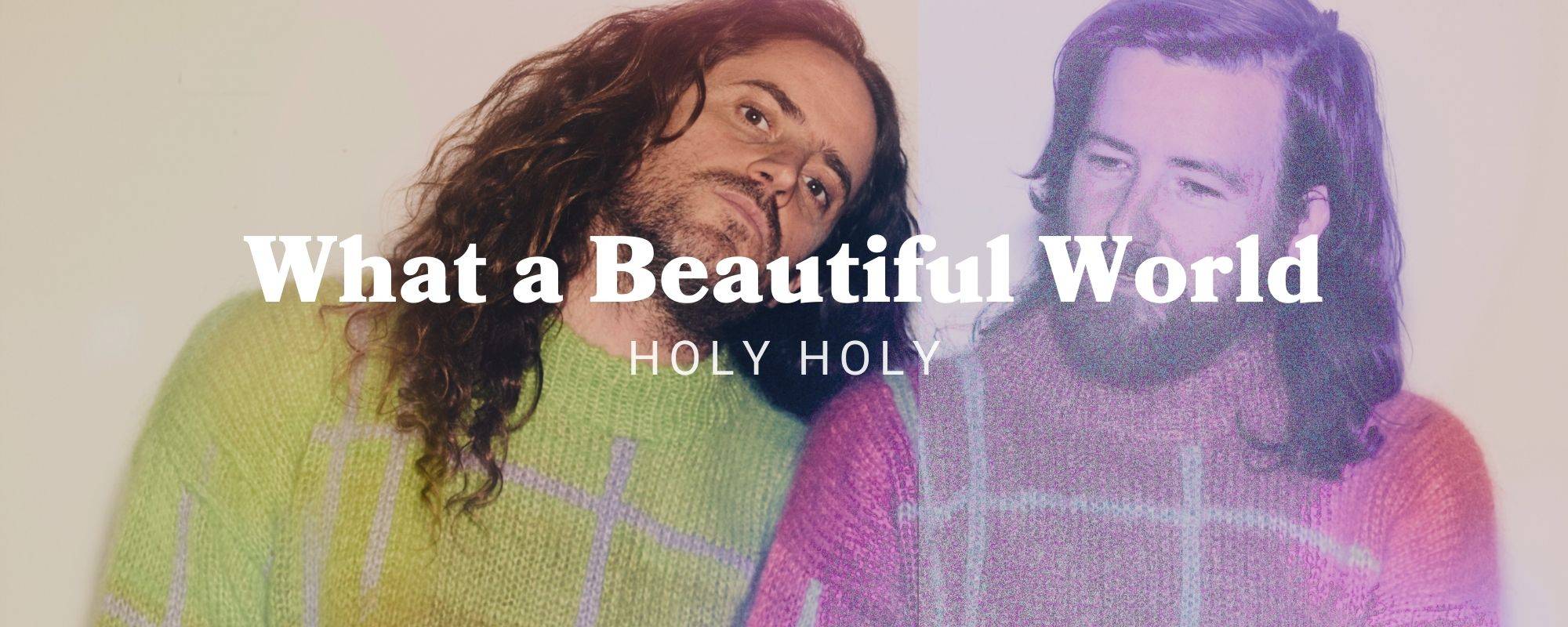 Holy Holy Welcomes You To Their Beautiful World...
How many people do you know who've said, "oh yeah, travelling to (insert random place here) totally changed my life…"? Too many. However, for the iconic Aussie pop duo, Holy Holy - nothing could be more true. The two-piece initially met overseas, just after finishing high school during a volunteer-English-teaching gig in Thailand. Needless to say, not a whole lot of teaching was done - instead, a friendship was made. And a few years on, Oscar and Tim's paths crossed again. The song-writing started. Holy Holy was born. 
My friends often tell me I have the best job ever. And it's when I get to chat to artists like Holy Holy that I totally agree with them. Holy Holy are easily one of the biggest artists in Australia right now, and have been at the forefront of the Aussie pop scene since their massive first album, "When The Storms Would Come" landed in 2015. The duo's sound has evolved, their song-writing process has changed - however, the musicians that you see at every Holy Holy gig, have for the most part, stayed the same. With the likes of Ryan Strathie, the band's drummer setting the pace and Graham Ritchie who plays bass, generally holding things together.
Their recent release, "Hello My Beautiful World" is insane (in the best way). The album features the iconic sister duo CLEWS appearing on the single, "The Aftergone" alongside The Presets' Kim Moyes. The record truly see's Holy Holy cementing themselves as a powerful force amongst the Australian songwriting landscape. I found it surreal that an artist as big as Holy Holy can't comprehend just how influential they are. Chatting to Oscar it became clear that even he still can't quite fathom that there are so many people out there who like their music, but he's super proud of the album they've created together.
"To simply make an album is something I'm proud of. They don't come together easily by any stretch so we're lucky to be able to do it, and proud to have done it."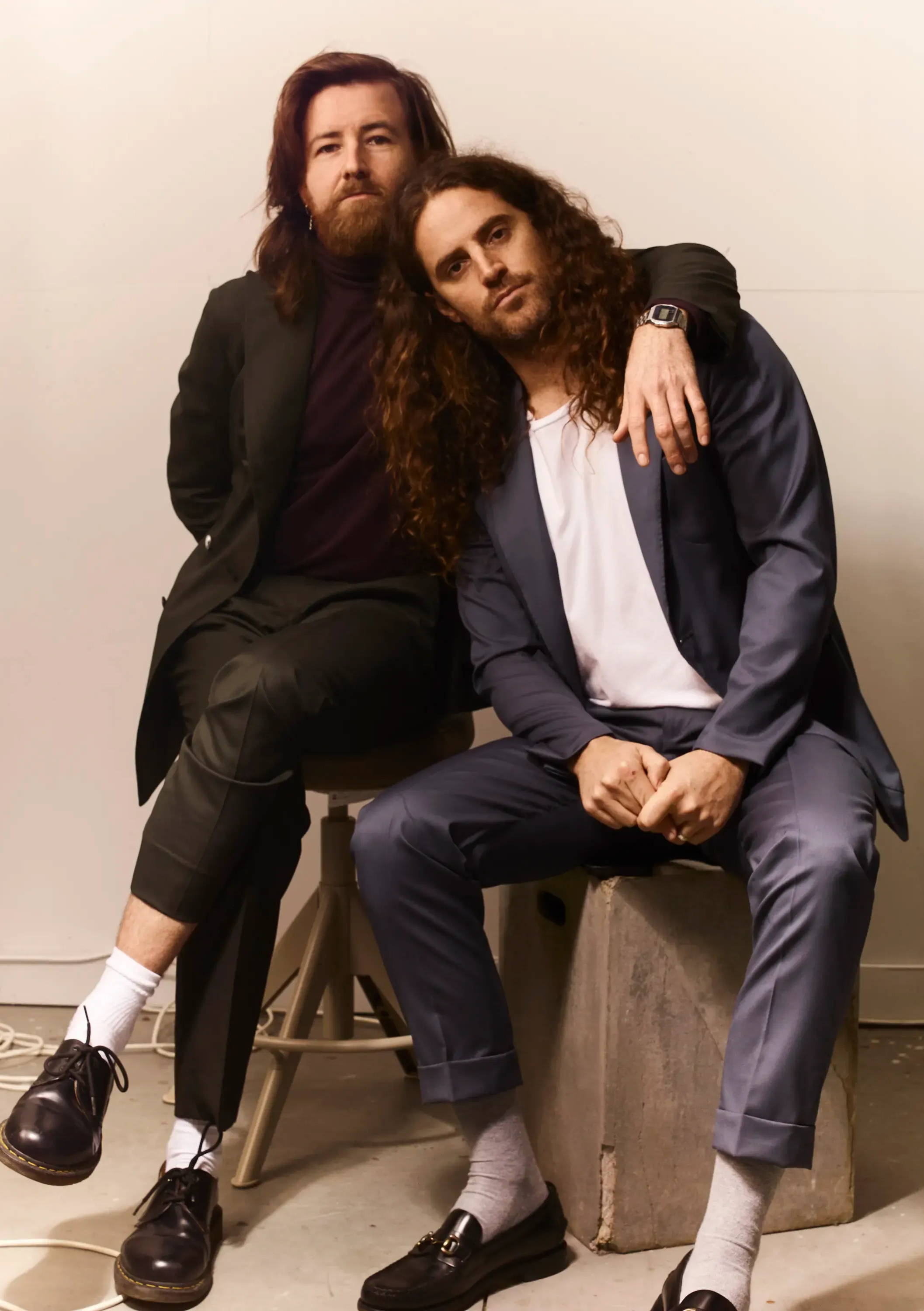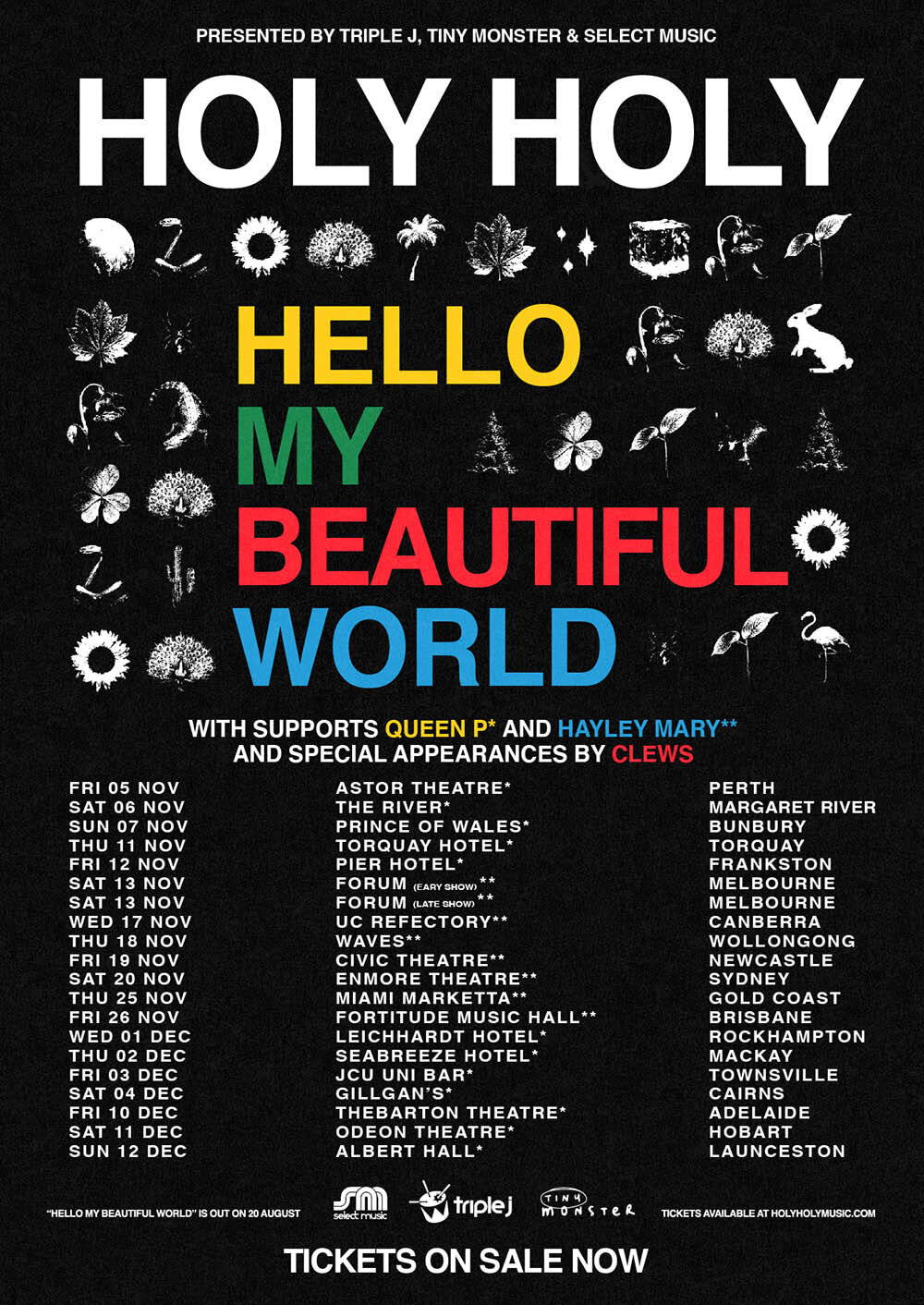 Image: Hello My Beautiful World Tour Poster.
"Making music is kinda like having a conversation; you start on a specific topic but after an hour, or many hours, who knows what you'll be talking about. That's the beauty."

Holy Holy's sound is pretty unmatched within the scene, so I was curious to know who they grew up listening to and if these artists had any effect on their sound.
"Our sound probably does have some link to the bands and artists we listened to when we were growing up. Hard to say. I listened to a bunch of old guitar music. And … lo and behold, we have guitar solos. Tim comes from a folk background, but our sound is nothing like that these days... I'd say, that lyrically speaking, some of the folk-influences are still there."
It also became clear when chatting to Oscar that the way they approach what they do is unique in its own right. With countless gigs under their belt, the duo must have too many memories to keep track of - but Oscar affirmed that every single thing they do is special in their own way.
"I really don't know. I think it's kinda odd to think of memories in competition with one another. Everything feels so present at the moment; I find it hard to feel nostalgic about our experiences. That said, I reckon if you ask me this same question in 20 years time [what's been your favourite memory together so far], I'll look back and say that the tour we're about to go on will be my best memory yet."
You can catch Holy Holy on tour over the next few months (hopefully!). Otherwise, you can catch them on their Instagram page here.
Want to know who Holy Holy think you should keep an eye on? Find out who they're getting down to at the moment.
"King Stingray definitely. Best band in the country."
This is contribution #11 for our Friday Feels series. Curated by Bec.