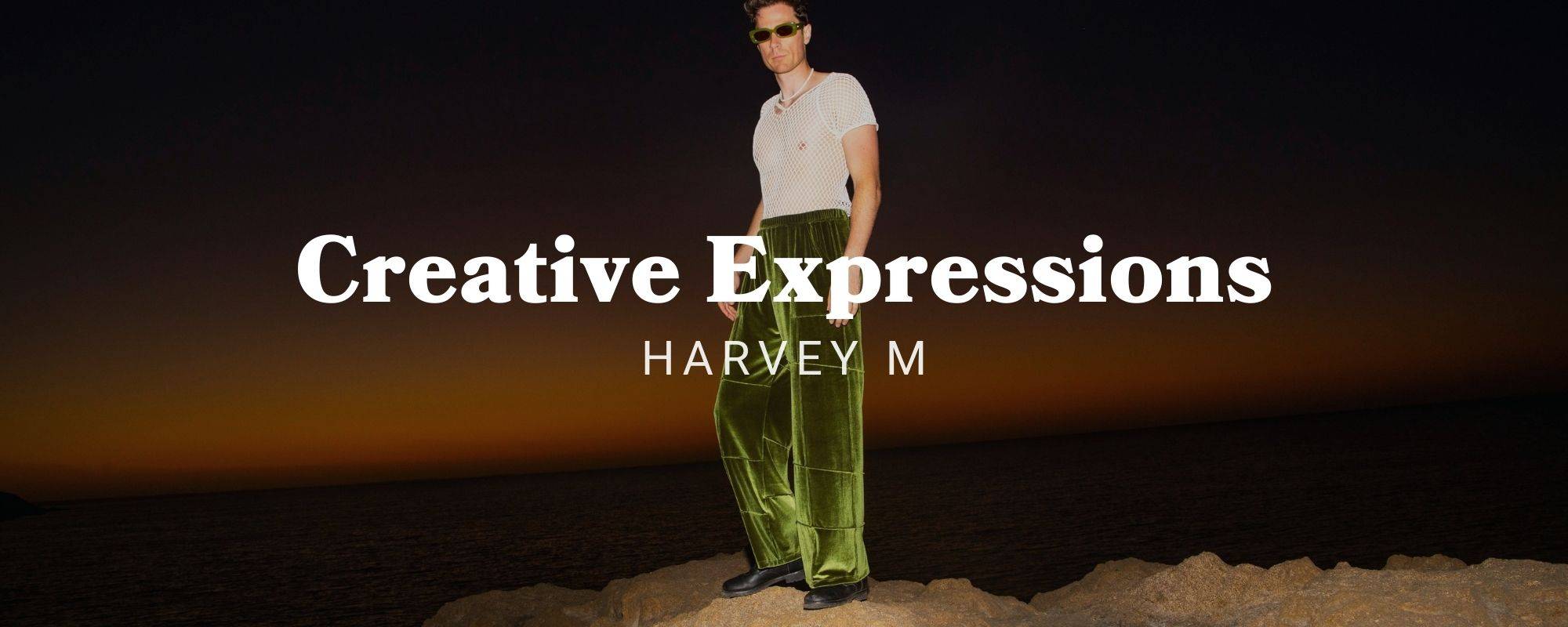 For those of you who are fans of Casius, Basement Jaxx, Myd, DJ Seinfeld or Jayda G – we've got a name that you may want to familiarise yourself with. Harvey M is a new but noteworthy name emerging within Australia's feel-good house music scene. His latest tunes, 'You Know That I Love You' and 'Love I Give' will be on repeat around Eat Your Water HQ – his refreshing and nostalgic sound gives off major summer vibes and we're here for it.
Harvey has always been creative – and it's not limited to this music biz either. Growing up he watched a lot of music (MTV) television and seeing those clips inspired him to be creative. "I liked music TV - it had the visual, the narrative, the music and was kind of multi-sensory." Fast-forward into high school, he got into making music on his computer – fiddling with programs like Freddy Loops in his spare time. "I was doing that instead of doing my homework and it just commanded my attention when I came home from school. I just kept doing it and I became addicted to making sounds on the computer. That was the beginning."
Harvey finds inspiration from late 90's and early 2000's dance music and compilations like Wild, Chill Out Sessions, Cafe Del Mar – music that doesn't typically get much of a look these days. "I don't believe it's had its resurgence. That music for me was very special. The whole Ibiza summer dance compilation vibe - I think it's been somewhat overlooked and is on the brink of a major comeback - at least I'm betting on that being the case." Chatting to Harvey made it clear that a lot of those sounds and aesthetics has heavily influenced his own – creating a unique pocket of sound within his genre, "It's exciting and fun to be channelling an era that hasn't been pillaged."
"Sounds like those early 2000s dance compilations that you'd find hidden underneath the seat of your friend's 2000 Mazda hatchback and when you go to open it one of the CDs is scratched, but you put it in the CD player and have the best drive down to the beach!"

Not going to lie, I've never really understood the sentiment behind popular music artists who dislike performing. Throughout the time of Friday Feels, there have been a lot of creatively driven, excessively talented musicians and creatives alike that have all expressed to me their disinterest in the actual act of performing. The first time someone said that to me, I had the natural reaction of "why do you do it then?" their response was simple. "I love music, and if I don't let it out – I'm not sure what would happen." For some, performing is an act of self-preservation, others, it's self-expression and again, for some, it's who they are. I explored this idea with Harvey,
"I don't particularly harbour any great memories about playing music because I don't particularly love the act of performing music. I prefer producing it and making it and building the world, creating the aesthetic and building the brand - that's kind of what I like doing. So probably just when I first discovered doing it, at my Mum's place growing up when I was younger. That's a very happy memory..."
His latest releases are an insight into more new tunes arriving in Feb 2022. 'You Know That I Love You' and 'Love I Give' basically reference all the feel good dance music that you'd find on early 2000s dance compilations.
"That's the sort of sonic vibe I'm going for anyway.. It ties in with summer, water, the beach which are all things that are important to me. That's the world that I'm building and want to continue on with. I've got some more releases upcoming and I can't wait to get them out - they'll definitely echo that sentiment."
Keep an eye out for Harvey's upcoming releases in February. In the meantime, he's throwing a couple of parties in the city and down at the beach - so chuck him a follow on his instagram to see the dates for those. We'll catch you guys next week with our last Friday Feels for 2021.
Want to know who Harvey M reckons you should keep an eye on? Find out who he's getting down to at the moment.
"There's a cool band called The Beefs and they have a song called 'Punchin''. I think it's worth having a listen to - it's got awesome lyrics, great tune."
This is contribution #23 for our Friday Feels series. Curated by Bec.