"Their music acts as a space for their creativity to flourish.."
It seems that our friends over in Western Australia keep on producing talent, and the rest of Australia is just trying to catch up. This month's feature artist is Dulcie, an all-female band from Perth, WA. These girls are making moves amongst the Aussie scene - and you need to take notice.
With each band member bringing their own unique voice and sound to the group, their music acts as a space for their creativity to flourish - producing some wicked songs that we can't get enough of. The band comprised of; Timieka - bass & vocals, Saskia - guitar & vocals, Ashleigh - piano & vocals and Mad - drums, collided through their mutual studies at WAAPA. Their name 'Dulcie' being a tribute to Ash's grandmother - whilst meaning "sweet sounding harmonies" in Latin. A notion embodied within their music. Don't believe us? Listen, and you'll see for yourself.
With all members growing up immersed in different musical styles, ranging from rock, to pop, to jazz, to R&B and the list could go on! We were keen to see what's behind Dulcie's sound, and how as a group they come together.
"When we are writing a song, you can definitely hear the influences that we have been all listening to within the past month or so. I think it's very cool that we can mash our fave influences & sounds all together and it still comes out sounding like a Dulcie track."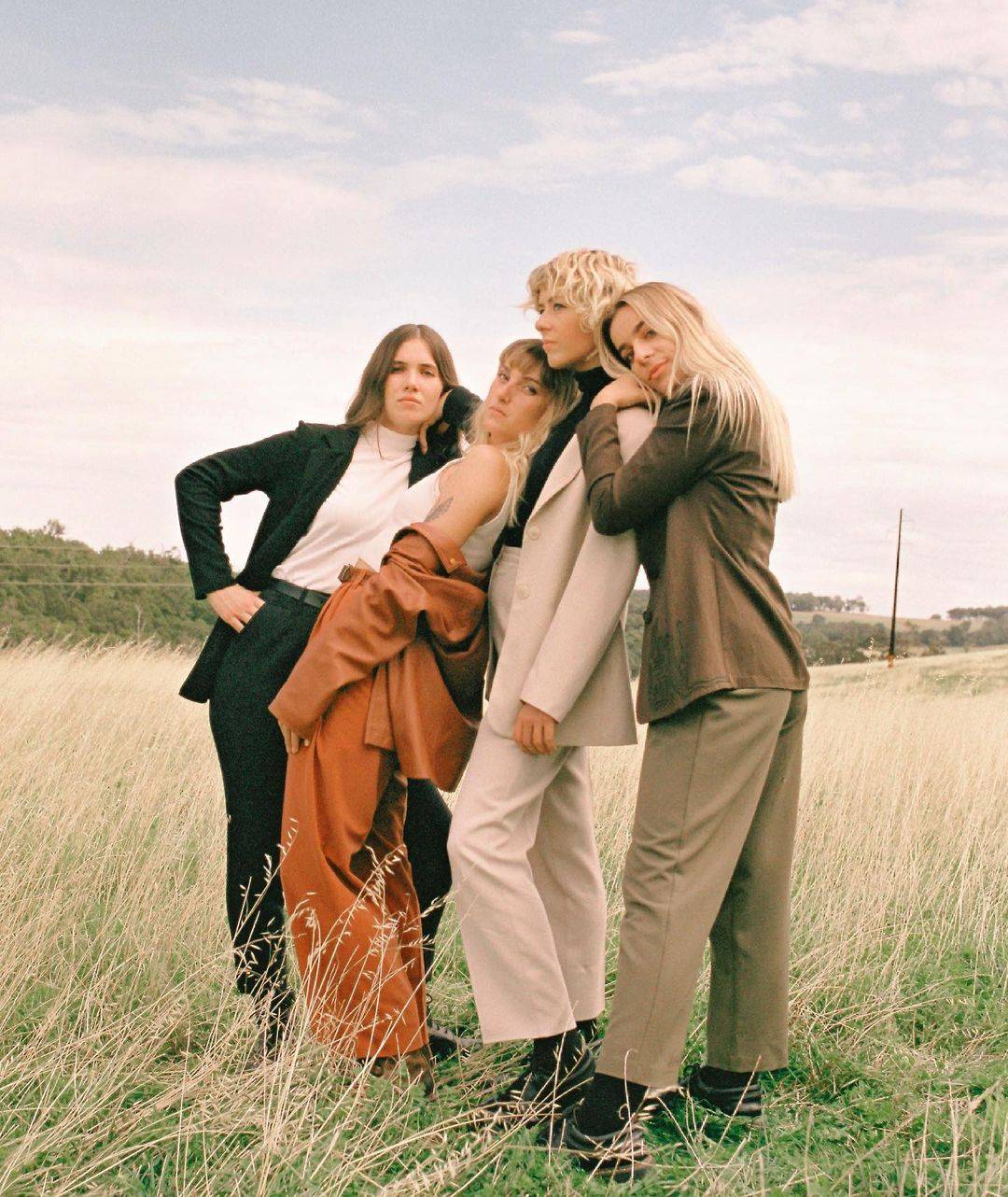 Image: Dulcie Music. Photo by Daniel Hildebrand.
Definition [Dulcie]: an angelic, smooth, uplifting, harmony filled, girl power, pop band.
Their communication with one another is kept at the forefront of their songwriting process when deciding what direction they want to take the song in. However, it usually all just falls into place, with an unspoken ease amongst the group when approaching their music and the genres they want to explore. The group dynamics are thoughtful and considered, having been through so many crazy moments together, it's nice to see a band innately knowing they have each other's backs.
Many of Dulcie's plans for the past year & a half have been rescheduled or cancelled due to Covid, like every other artist! So it's been tough on them, that's for sure! With deep roots to WA, the foursome note how lucky they are to be safe, and have taken this time to write and create. With the end of 2021 approaching (crazy huh!) Dulcie has some pretty cool gigs coming up (if all goes well), supporting Ocean Alley on their national tour alongside the Psychedelic Porn Crumpets. A pretty sick trio, if you ask us!
There's some new music in the works too, with the group keen to get into the studio and have a bunch of new songs on the table for us all by the end of this year. They never stop, with their first EP, 'Sake of Sound' just launching in June, they're determined to keep on creating and making something for both themselves, and their rapidly growing audience. But they hold a special place for the EP that started it all.
With each song on the record having a meaning, purpose and message that the band wants their listeners to connect to. Featuring themes of heartbreak and mental health - to advocating for equality, hope and love.

"It took us a while to know what songs we wanted to showcase on our debut EP, as we wanted to make it as diverse and meaningful as possible."

We asked the girls to describe Dulcie's sound, "The sound of "Dulcie" would be angelic, smooth, uplifting, harmony filled, girl power, pop band!" And they're not wrong. If you haven't already, you can check them out @dulcie.music on Instagram/Facebook & Tiktok! Also catch them on our Friday Feels Playlist on Spotify.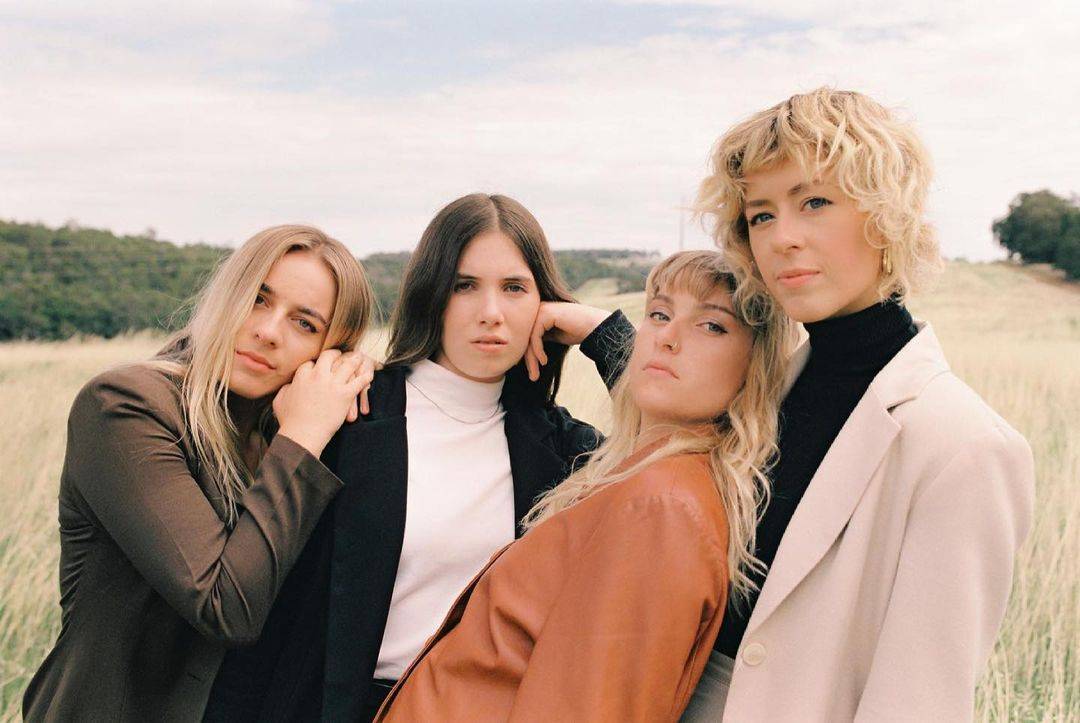 Image: Dulcie Music. Photo by Daniel Hildebrand.
Want to know who Dulcie reckons you should keep an eye on? Find out who they're getting down to at the moment.
"There are so many incredible artists in Australia & certainly the Perth music scene that we hope achieve big big things. Supathick, Siobhan Cotchin, Noah Dillon, Clove, The Plain Glass Windows are some great new bands y'all need to check out ! In terms of inspirations one of the local successes recently is Spacey Jane (a Friday Feels local!)... For so long we were thinking "why hasn't Spacey taken over the world yet? Their songs and lyrics are incredible" - we had hoped for their music to get out to the rest of Australia and now they have finally done it. Incredible people onstage and off. We've become close with Porn Crumpets as well as we share management and can't wait to join them on this Ocean Alley tour!"
This is contribution #8 for our Friday Feels series. Curated by Bec.