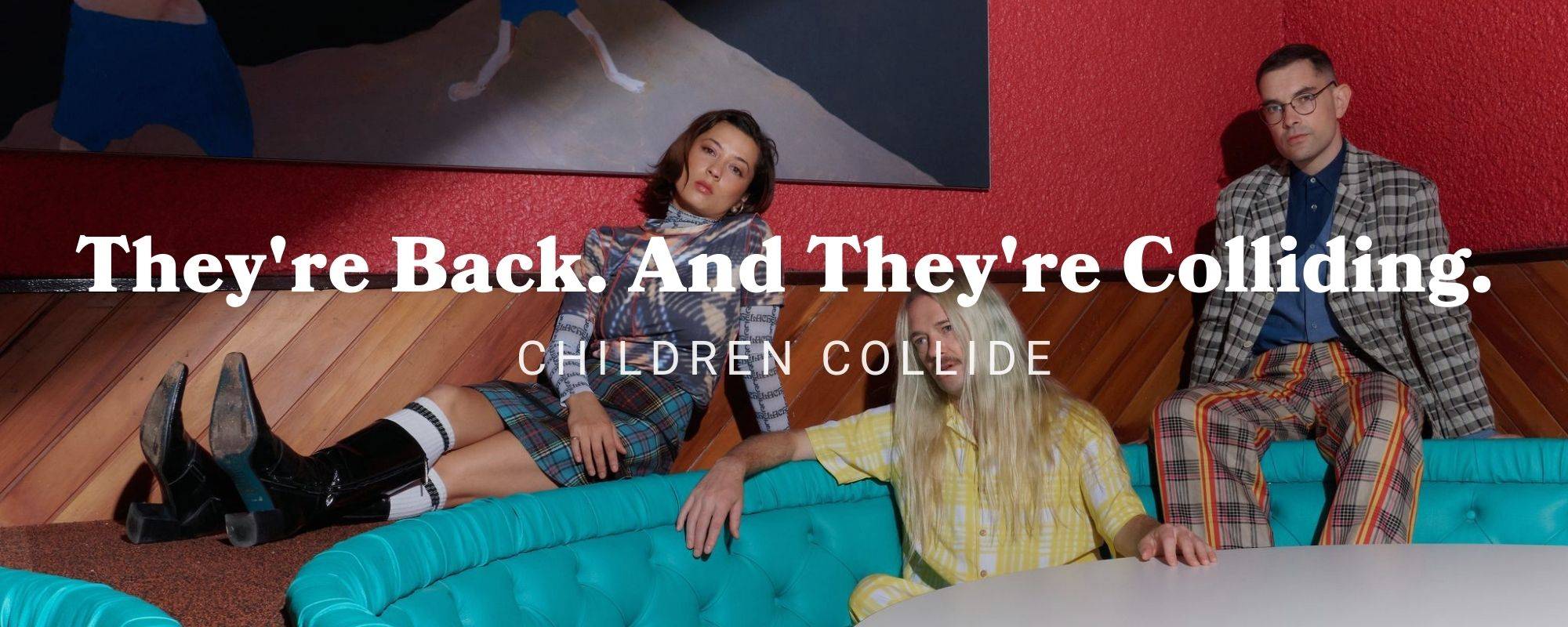 This week we introduce you to Children Collide, the trio whose music has been in the back of your mind at one time or another. Releasing their fourth studio album, Time Itself, Children Collide are officially back - and we're bloody happy about it.
Children Collide have been on the Aussie music scene since 2005 and have adopted different forms throughout their journey. They're no small feat, with ARIA charting albums under their belt and several Triple J Hottest 100 nominations - the Melbourne-based band were everywhere, beloved for their punk / indie rock fusion and legendary stage presence.
Seven years after the band's hiatus, they emerged. With Johnny and Ryan mending fences, they added legend Chelsea Wheatley to the mix as their new bass player. Their single 'Aurora' was born - claiming two sold-out shows in both Sydney and Melbourne - they were back - and everyone knew it.
It's kind of cool how bands can come full circle - we spoke to Johnny about CC's origins; the bands roots remain deep within the Melbourne pub-scene. With Ryan and him meeting during a shift at a Melbourne bar, 'Ding Dong'.
"I remember serving beers then jumping on stage to play a show then back behind the bar right after. We lived together in a crazy Melbourne sharehouse where my room was a dungeon. Around the same time Chelsea was playing about town in her punk band The Gingers."
That dungeon room saw some sick gigs emerge from random house-parties. Not long after, they were playing Big Day Outs and Splendour. A pretty mental jump. They're not a group to shy away from a chance to play - once playing in a line at some Uni for some free sausage sandwiches.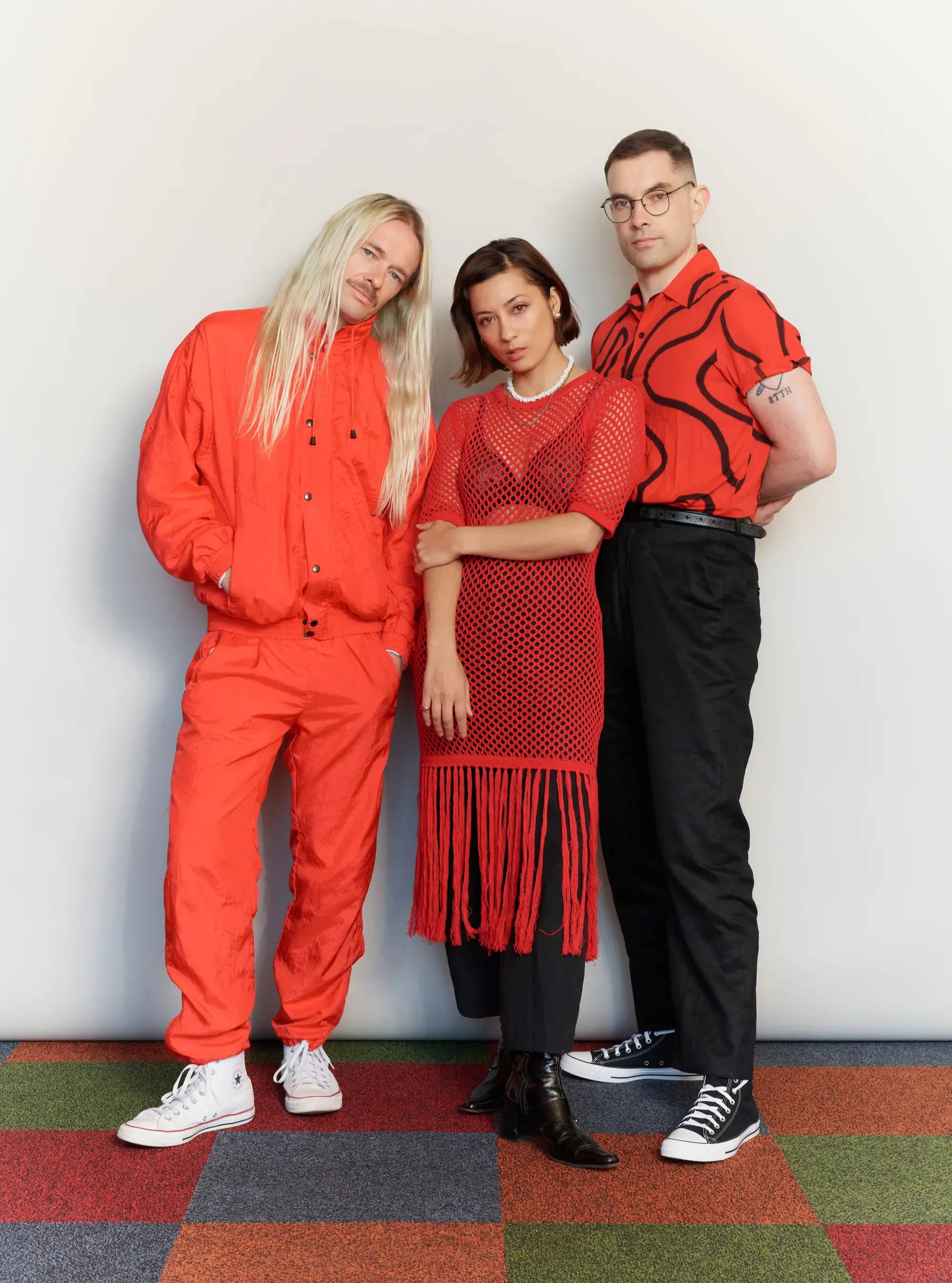 "I feel like on this record we evolved back into the past. It's been fun..."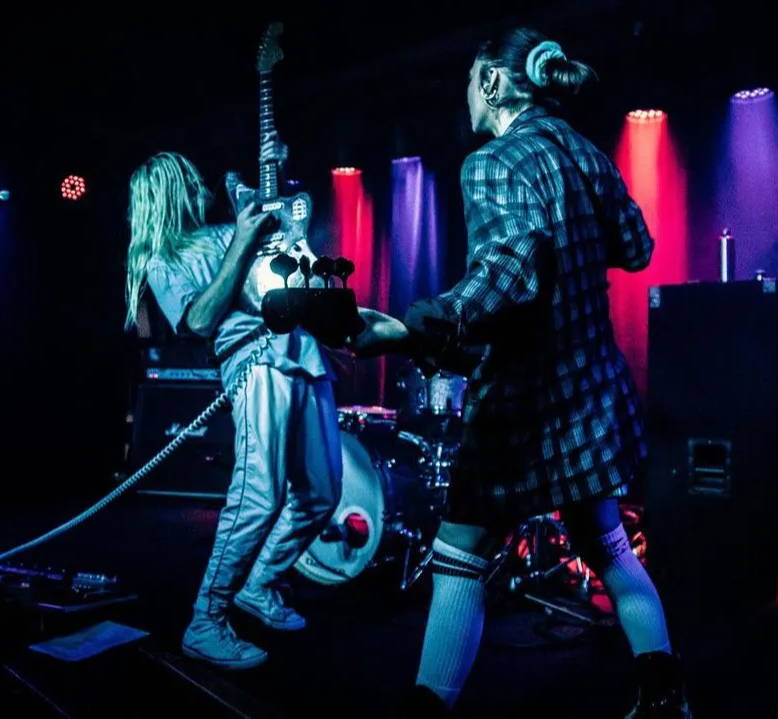 Image: Children Collide live
Nowadays, the dynamic involves Chelsea and Ryan giving Johnny shit. "It's a fun family vibe full o'laffs!" Time Itself embodies a different tone, one that's deep and heavy - resembling the energy from their earlier releases. With live elements embedded within the track, the band wants their audience to feel immersed within the music - like you're in the room with them. And you do. The live takes provide a sense of realism to the album, CC's hectic energy is conveyed, and you feel like you're with them. A cool notion for an album to embody, especially with the touring confines that Covid is imposing right now.
The album came to life in the pre-production stage. The band honed in on its sound in upstate New York. By day, the three-piece would jam in the basement of a house by the river, and at night come up and listen to music on an old reel-to-reel tape machine.
"I can't remember all the albums they [the house] had, but definitely Black Sabbath, Stooges, Dark Side of the Moon. I seem to remember getting really stoned and watching some weird Scientology videos too."
Like any group, each member's musical influences come into play. However, Children Collide's sound is easily one of the most individualistic on the scene. We were keen to see how their sound as a group evolved when there's so many artists coming into the mix. Johnny explains,
"It's not really a conscious amalgamation like that. We bring in a song, all put our best ears forward and hash it out. After it's recorded you can probably hear influences, but by that stage it's on to the next creation anyway. I guess influences come into guitar and drum sounds and things like that, but then you have the producer to translate that for you also. I feel like on this record we evolved back into the past. It's been fun."
You can tell as a band they've leaned back into those feelings that first made them excited about music. We asked Johnny how he'd describe that original sound,
"I always find this hard to answer. To me we sound like high school friends jamming in a garage with one of those orange boss distortion pedals. Hopefully it's a bit more sophisticated than that though…"
They haven't lost their spontaneous teenage energy but have simultaneously evolved into a band that challenges themselves. Reaching different places with their music and connecting with new audiences. Children Collide have announced a national 13-date headline tour around Aus in November and December to celebrate the release of Time Itself, with the hope to take it international next year. You'd be mad not to check them out and can find them on Instagram here and in our Friday Feels playlist here.
Want to know who Children Collide reckon you should keep an eye on? Find out who they're getting down to at the moment.
[Johnny]: "I worked with a cool disco artist named Tanzer who more people should hear. Also check out my bandmates' projects; Pearls and Chela. And everything else on Spinning Top. We recently played with Full Flower Moon Band who are great."
This is contribution #10 for our Friday Feels series. Curated by Bec.